Species and Finishes
You've picked out your new cabinet door style — now it's time to select the wood and finish you love. If your desired look is painted or stained there are a few characteristics you should be aware of before you commit.
Most people would agree that hardwood doors, even when painted, are the best option. However did you know that wood naturally expands and contracts depending on the humidity levels and temperature changes? This natural occurrence of expanding and contracting may cause minor hairline fractures at the seams on a painted door. If your home experiences these swings you might consider our MDF or Hybrid doors. Additional information is below in the painted section.
You should know that the type of wood your doors are made of will dramatically affect how a stain actually looks on your doors. It's also good to know a few characteristics about your wood selection. For example, most wood species darken with age, and each wood species absorbs stains differently. Below is a list of the most common wood species and important specifications to help you make the right choice for your dream kitchen or bath. We've also included helpful color swatches to show you how a stain will look on your wood choice. Finally, there are a number of finishing styles — such as glazing distressing, antiquing — to choose from.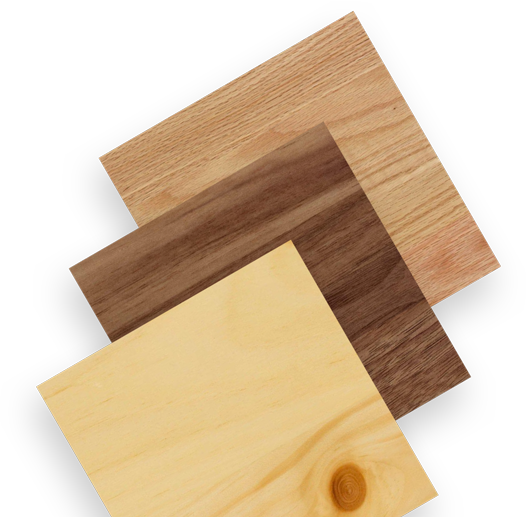 Glazes & Finishes
In addition to paints and stain treatments, you may choose to have a glaze or other finish applied to your cabinet doors.
---
Glazing

We offer a variety of glazing color options. All glazes are applied using a hand-rubbed application process to the entire surface of the face and back of the door, resulting in each door becoming one-of-a-kind in its appearance.

Even though every glazed door is matched to a control sample, each door will take glaze differently. We recommend that a sample door be ordered prior to ordering a full kitchen, regardless of the finish and species combination.

Pinstripe Glaze

Pinstripe glaze allows the true base color of a painted cabinet door to remain unaltered while providing contrasting, clean glaze lines. The glaze is applied by hand using a finely trimmed brush. Pinstripe glaze is applied only to the face and edge profiles of doors and drawer fronts, not the backs.

Heirloom Finishes

Each door, drawer front and accessory items will have some variations in appearance after an heirloom finish is applied, giving the finished kitchen an attractive and unique design statement.

Products coated with the Heirloom finishes are placed on drying racks after the coating application process. Small indentations or pin marks from these drying racks may appear on the backs of heirloom products. Talk to your dealer to see if an Heirloom finish is right for your project.

Antiquing

Antiquing is a a rub through process, in which corners and edges are subjected to a random sanding process that takes place prior to glaze and topcoat. This process is performed on bare wood, which will then be glazed and top coated.

Antiquing is the perfect complement to wear sanding and produces an authentic, worn look. Antiquing and wear sanding are not available on front frames.

Distressing

SouthernStone offers three levels of distressing. Each level of distressing is random in application, designed to give fronts an aged, antique-like appearance. Most distress markings will typically not appear on raise profiles. Different door styles and species will display distressing differently. Custom distressing and antiquing are not available.

Front frames and range hoods will receive a modified distressing package. Distressing on range hoods may be limited in intensity depending on the style of hood.

Sherwin Williams

Looking for that perfect color, we at SouthernStone Cabinets believe in options. That's why in addition to all the standard paints and stains we have already shown we are proud to also offer 1600 and counting Sherwin Williams Prism Paint colors through our partnership with Conestoga. For your convenience here is a link to those colors with swatches as well as a PDF with all the color names and corresponding numbers.
You dream it. We build it.
There are hundreds of combinations of door styles, wood species, and paint, glaze or other finishes. Now that you know more about how the wood species and finishing options will impact your final product, we recommend working with your dealer to find the perfect option for your project.